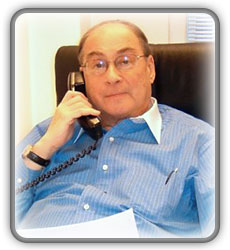 E. Magnus Oppenheim
President and Chief Investment Officer
Mr. Oppenheim founded the predecessor to E. Magnus Oppenheim & Co., Inc. in 1971. He is also President of E.M.O. Asset Management, Inc., the General Partner of the E.M.O. Sterling Return LT Fund. Mr. Oppenheim's involvement in equity research and portfolio management spans five decades, displaying an uncommon amalgamation of investment and entrepreneurial achievement. Prior to founding the firm, Mr. Oppenheim was a General Partner at S.D. Cohn & Co., Inc., member New York Stock Exchange, where he was Director of Institutional Research.
Mr. Oppenheim completed all coursework and exams except orals and dissertation towards a Ph.D. in economics and finance at the New York University Graduate School of Business Administration. Mr. Oppenheim received his M.A. in Economics from the Graduate Faculties and his M.B.A. in Finance from the Graduate School of Business, both of Columbia University. He earned his B.A. cum laude from the College of the City of New York, where he was also recipient of the Eibschutz Scholarship and the New York Foundation Award.
Mr. Oppenheim has authored articles on economics and finance published in the Journal of Commerce and Banker's Monthly Magazine.
Professional Affiliations
Member, New York Society of Securities Analysts
Previous Professional Affiliations
Vice-Chairman, Alliant Computer Systems Corporation Creditors Committee
Member, The Association for Investment Management and Research (now CFA Institute)
Not-For-Profit Affiliations
President, E. Magnus Oppenheim Foundation
Director, Manhattan Day School
Director, The International Synagogue
Member, Advisory Council, New York Board of Rabbis
Member, Advisory Council, The Wall Street Synagogue
Director, Ariel-United Israel Institutions
Director, Religious Zionists of America
Previous Not-For-Profit Affiliations
Director, Union of Orthodox Jewish Congregations of America
Chairman, Salute to Israel Parade Finance Committee
Chairman, Yeshiva Rabbi Moshe Soleveichik Alumni Committee
Member, New York City Port Council for Development and Promotion
Chairman, 66th Assembly District Democratic County Committee
Alternate Delegate, 1976 Democratic National Convention
Observer, 1978 White House Conference on Balanced Growth and Economic Development