April 1, 2012
Dear Client, Share/Unit Owner and Treasured Partner:
Greetings!
At this annual writing, I would like to request those IRA clients who are required to take IRS-mandated annual "Required Minimum Distributions" to please notify our firm in writing early in the calendar year as to your distribution amount. This will provide us sufficient time to achieve a favorable distribution for you (i.e., when stock prices are high, less shares are needed for the required distribution). Thank you in advance for your cooperation.
2011 was a volatile and perplexing year for stock market prices. The U.S. stock market responded sensitively to every twist and turn of the Euro zone's economic and debt problems, to the Middle East upheavals' impact on oil prices as well as the natural disaster that occurred in Japan. Volatility in U.S. stock prices last year was exhibited by the 24% swing between the May Dow Jones Industrial Average Index High and its low in October. The Dow climbed 11% to the May high, yet by year-end this index only gained a total of 5.5%.
In light of the volatile environment we have encountered over the past few years, we structured our portfolio mainly with well-established companies that are in good financial health. Such companies can continue to grow even in uncertain economies. This is reflected by dividend increases declared in 2011 by seven of our fifteen portfolio investments. By sharing their company's success with stockholders, these corporate managers are expressing their confidence in the future prospects for their companies – our investments.
Even during this volatile year, when profits emerged, your portfolio managers did not hesitate to harvest them. During 2011, partial short-term profits were taken in Aetna Inc. and Take-Two Interactive Software as well as by closing out our positions in Boston Scientific and SLM Corp.
Partial long-term gains were taken in Hewlett-Packard, Omnicare and WMS Industries and the position in Knight Capital Group was sold. During the year, the Fund took a position in ITT Corp. in anticipation of a three-way company split-up. When the split-up occurred at the end of October 2011, all three companies were sold for an overall gain at the end of the year.
At year-end 2011, our portfolio possessed sixteen companies which were diversified among twelve industry sectors. Liquid cash for reinvestment equaled 13% of the portfolio's value providing buying power and flexibility in the evolving economic, political, technical and social environment we find ourselves globally. Our portfolio was positioned in the following manner:
We believe these stocks will contribute to the long-term appreciation prospects of our portfolio. The dividend increases our portfolio experienced indicate the positive long-term outlook for these companies and augments our liquid funds for new investments.
The 'great recession' began at the end of 2008 starting the domestic and global economic and financial turmoil which hopefully is beginning to abate. During this period stock prices entered into a "bear market." Nevertheless, in spite of this tumultuous period, our E.M.O. Sterling Return LT Fund's compounded annual growth rate since its 1994 inception outperformed comparable indices of stock prices, as indicated by this table: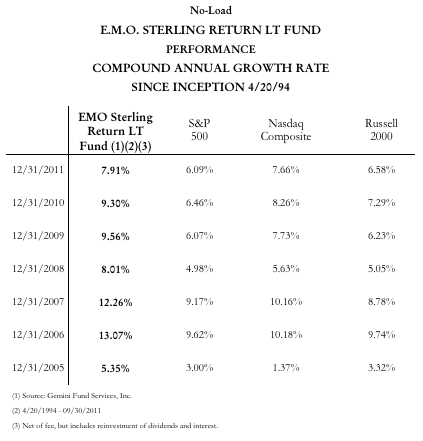 Going forward, we expect the market volatility experienced of late to continue on a similar scale as what happened in 2011 (see chart on page 1). Exploiting the market's volatility is one way professional investors achieve above-average results. Our clients, who made additional investments in 2011, were thus able to average their holdings and benefit from subsequent price recovery. Therefore, we urge all clients to view this volatility as a chance to profit from again this year. We advise you to make additional investments in order to take advantage of market opportunities as they present themselves.
At the start of 2012, I and my associates want to express our appreciation for your continued confidence in us and for your patronage. We continue to be dedicated and committed to providing you with creative investment research and management service.
Cordially yours,
E. Magnus Oppenheim
Simeon S. Oppenheim
EMO: ld
Enclosure
P.S. Our firm has experience in Trust and Estate Administration. You will find as clients that our rates are competitive. If this is relevant to you, we invite you to contact us.